Why should you choose Eastern Asphalt? There is simply no better choice. Since 1972 Eastern Asphalt has provided high quality asphalt services to Genesee County and all of lower Michigan. We believe in being the best in the area and in our business. Our employees are dedicated to their craft, we use the latest state-of-the-art equipment to get the job done right and on time.
Give us a call today to speak with one of our Asphalt Experts at (810) 787-5500.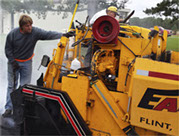 Our Mission – to provide the highest quality asphalt professionally and expeditiously installed at an affordable price to exceed each of our clients paving needs.